Chuck Richardson
requiescat in pace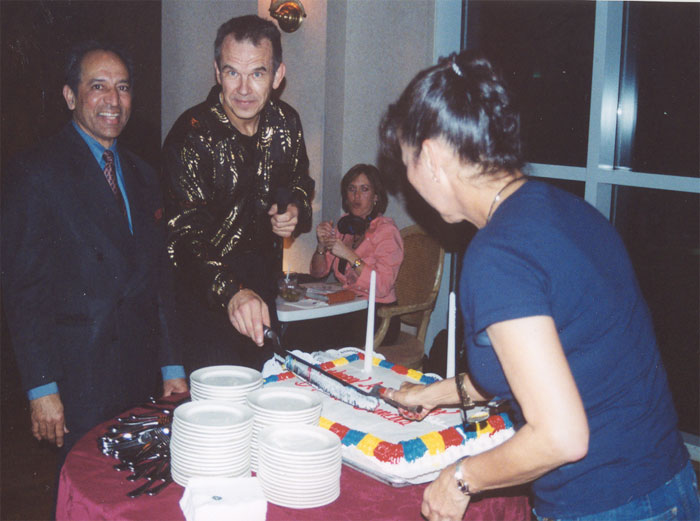 Chuck cutting the cake for the Omni Anniversary Party
Carl (Chuck) Hazard Richardson, Jr.
Born November 23, 1946 in Newport, Rhode Island, the son of Carl H. & Ethel Twigg Chuck Richardson, grew up in Elkhart, Indiana where he was an All-American Linebacker for the 1963 football state champion Elkhart High School Blueblazers. Heavily recruited by most major universities around the country, he chose to apply for and won an appointment to attend the Air Force Academy where he starred on its football team until a knee injury ended his playing career, his junior year.
After flight training he commanded aircraft while serving in the Viet Nam conflict where he developed skills as a short takeoff and landing expert in order to deliver troops and supplies in tight and treacherous terrain, under combat conditions. While in country, he was selected to serve as a General's Aide, a high honor usually given to officers having a potential for career senior leadership.
Chuck was selected to pilot the Apollo 14 astronauts, still in their isolation lab, to the Houston Space Center following their splashdown in the Pacific Ocean, in 1971.
Looking for change, Chuck left the service in 1973 and sought a career in the business world where he studied and became certified, usually scoring perfect scores, in several fields involving insurance, tax and financial planning.
Among many other honors was the Air Force Academy dinner that recognized Chuck as the "Outstanding Admissions Liaison Officer of the Nation, 1984". Always in superb physical condition, Chuck became devoted to swing dancing to which he diligently applied himself and, in a few short years, developed a solid ability and skills which he shared with many others as a friend, partner and quiet teacher.
His positive attitude, high standards and supportive demeanor impressed and inspired those he met who will miss his exemplary strengths and caring example. Chuck is survived by his sister, Carolyn A. Davis, his niece, Monica E. Metz, nephews, Troy Carl Davis and Eric Dwight Davis and the woman he intended to marry, Gail Profitt.
Memories of Chuck by his friends....
---
Chuck Richardson passed away at 3:30 a.m. this morning.

- Alisha Turner
January 5, 2006
---
I helped him and Claudia some when they were getting ready for one of his first contests. I use to kid him about those strong arms and how if he wasn't careful he was going to spin me across the room (and maybe into the next state...smile). He always worked so hard to improve his dancing; and as far as I am concerned, his lead became one of the best around.

His kindness and big heart was what I thought was sooooo special about him though. No, he wasn't perfect (lord knows none of us are), but he was definitely one of the nicest (if not the nicest) men I ever met. I truly believe that everyone that met him was better for it.

Thanks Chuck for your friendship,

- Elizabeth Coleman

---
We stayed at the Mesquite Community Hospital ER last night until they took Chuck to his private room.
It was a wonderful celebration of his life!

In the ER patient room were three women that Chuck did routines with in the same year. Three routines, all in the same year! Laura Jones (Masters), Alisha Turner (Female Pro Am Progressive), and Sharon Lantrip (Novice) were in the room at 10 pm.

What a man! His unselfish effort to secure a place for us to dance is amazing. How many great dances did you have at the Omni because of Chuck?

- Dave Megaffin

---
He had two other previous dance partners there last night as well. Barbara Scoggin, his Newcomer Novice partner, and Claudia Burig, his Novice dance partner. Chuck was surrounded by people that loved him last night, in addition to his many dance partners. There were only supposed to be two people in the ER room at a time, but that was NOT going to happen. So, the nurses graciously kept bringing in chairs for us.

- Alisha Turner
---
Chuck was a wonderful friend, and a Great Dance Partner. He will surely be missed by all.

- Carolyn Brice

---
I enjoyed talking to Chuck one night at Post Time about a mutual love of ours, flying. He told me stories of his flying in the Air Force and mine in the Army. We talked for about an hour as I recall and laughed about how we both did the same stupid things as pilots in the military and it was a wonder we both weren't killed. It was amazing to me how two separate pilots could do the same things and types of things in the air. Well, he has a good pair of wings now and I'll get mine whenever the time comes and we can laugh about flying again.

Have a good flight to the West, Chuck.

God will take care of him.

- Don Duncan

---
Don Duncan sad it well. Chuck has a good pair of wings now... and they're well deserved.

- Gary K

---
Chuck was one of the kindest Men I knew. Before I came to town he was already welcoming me. We talked about many things. One was dancing and the other how he served his country. He always wanted the best for the dance community and I so loved and admired that. Even when he ran into obstacles to his vision, he still kept on and made the Omni happen for us..

He affected mine and other's lives and I am glad I met him. He was kind and thoughtful of others. When I got here and started becoming more acquainted with him, I knew this was a person that I wanted to be friends with because of his unselfishness and doing what he could to help a person get a leg up.

I still see the smile that I love every time I think of him. We love ya chuck, you're in a better place than we are.
- Terry Roseborough
---
Chuck will always be remembered in my heart as a kind and gentle man who loved this dance with so much passion. He truly had the "heart of the dancer"....his spirit will remain with us forever.....
- Linda Kuhn
---
The thing I remember most dearly about Chuck is one of his sayings, the one that I think exemplifies Chuck, "The Love of the Dance."

In one of our first meetings on Omni happenings I asked him why and how he could put so much time and effort into this. He answered, "It's because of my Love of the Dance." He used this saying often in our talks. He lived and breathed it. He so loved the dance.

And that's why he did it. Chuck Richardson loved the dance. He loved it with a passion. He cared deeply about bringing the dance in all it's beauty, fun and "joie de vie" to everyone in the dance community. You see for him, it wasn't just about being a great dancer, which he was. It was more about what he could to help others learn the dance, too. Chuck Richardson was a giving back person and that part was very important to him.

That's what he did for me in so many ways. I'll remember him dearly, lovingly and with gratitude. For all he gave and the ways he showed me "The Love of the Dance."

Wherever you are now, Chuck....I hope you dance.
- Dawn Reyes
---
I never met Chuck. I only know him through others ... but I have felt a *very* strong connection to him because my dad had the *exact* the same illness as Chuck had -- and my dad had a very similar journey.

I have thought of his family ... and his caretakers every day ...because I know this journey.

Peace. Peace to all.

- Elizabeth
---
I remember going to the Bass Club for the first time when I only had a hand full of WC lessons. Chuck asked me to dance and I warned him I was a beginner and he wanted to dance with me anyway. We danced and then went to a corner of the dance floor where he showed me some things, gave me some
pointers and danced with me again. He spent about 15 minutes with me. I thought how wonderful for this man to take the time. I feel blessed that I was able to dance with him this past year at Dallas Dance. I'm also glad I got the opportunity to tell him how special he was to me. Chuck, you will be dearly missed.

- Cheryl Davis
---
At 3:40 this morning, Chuck Richardson peacefully passed away with Gail Profitt by his side, holding his hand. He had been rushed to Mesquite Memorial Hospital after suffering a stroke, ending his valiant fight against the cancer that so callously invaded his body.

Who could ever have believed this fit, agile and compassionate man would suffer such a fate? Our best consolation may involve the fact that the love of his many friends and especially the love he shared with Gail over the past year, may have given Chuck the happiest days of his adult life. You may be sure Chuck thanks each you for that...
- Dave Cutcomb

---
I find it quite ironic and only fitting that Lou Rawls is now in heaven singing while Chuck is up there dancing. I am sure that all our dancing friends that have passed before them will welcome them both with open arms and will enjoy having another great singer and another great dancer joining them on heaven's dance floor.

Just a thought,

- Elizabeth Coleman